My Vero Moda Jersey Dress From Myntra.com
If luck would have it I would shop at
Myntra
like everyday.The ongoing sale is amazing and the upcoming tempting.I hardly used to do shopping online,but within the last month I have shopped like
'There's no tomorrow'
.And now when I look back,the apparels which I have got is like a collection of sorts.The ones that I always thought I would get at reasonable prize is just there,even dresses with great fit and cut.Just yesterday I ordered a Vero Moda jersey dress for 690 which was worth 2000+ something.Some of my friends swear by collection of dresses from Avirate at Myntra. Branded Tops for as less as 250-350 are available too.
Earlier I used to be scared at the idea of shopping online specially for Apparels,but with easy returns and fast delivery I wonder if I still have to go to shops.Ever. If you wouldn't believe me,just yesterday I got a Denim Jacket which I ordered from Myntra for 700 Rs,didn't like the fit,and today they come to pick it up.The refund amount has a option to be either transferred back to my account or have a voucher just in case I want to exchange or return it for further purchase.
I feel like stocking up for my whole family during these clearance sales.It's so pocket friendly that you wouldn't believe.You will have every reason to skip conventional markets from now on.
So bringing on further is this dashing New Year Sale on Myntra which I might miss because I am travelling both the days(flight + road),even though I can still buy online over my cellphone,we'll see.I had my heart on this(image below) mickey dress from 'Kook N Keech Disney' but I am travelling and have no one to receive at my home.I can still order delivery at later date,but I am not sure when I'll come back yet.Or may be I can get it delivered in Ahmadabad while I travel Rann of Kutch. Hmm..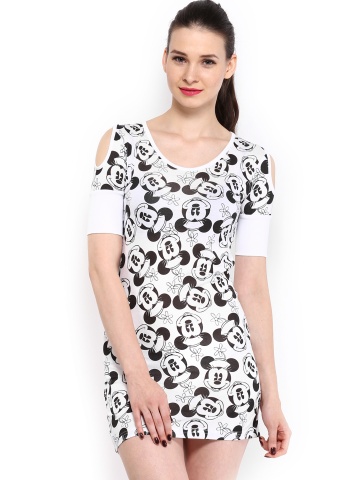 I am waiting for this one to go on Sale which is now worth Rs 699!
I think my fondness is getting into zone of obsession.In a good way that is.
A Miss
The only downside is the extra delivery charge which gets added when shopping below Rs 499,I wish delivery was free for products costing more than Rs 200.But that small hiccup wouldn't prevent me from buying tees and shorts and dresses.
A Hit
What I also like about Myntra was with the option of cash on delivery we have an option wherein we can tell the delivery chap that we'll pay by card and we can then and there.That is what I did for my last two purchase.The courier boys unlike any other companies are very polite and they themselves request us to try if we want to.
Myntra.com Introduces India's Biggest Fashion Sale, the 'End of Reason Sale'
Premium Fashion Merchandise to be offered at mind-boggling discounts between January 3rd and 4th, to Kick Off the New Year in Style
It's time to shed away all shopping inhibitions and bring forth the shopaholic in you as the biggest ever fashion sale is here to blow away all reasons that have stopped you from shopping.
Myntra.com
, India's leading online fashion retailer, is all set to introduce the
'End of Reason Sale' (EORS)
to be held between Saturday & Sunday, January 3rd & 4th, 2015, inviting all Indians to experience online shopping from the widest catalogue at never before offers.
Premium, International brands like
Nike, Puma, Adidas, GAS, US Polo, Fossil, Vero Moda, MANGO, and designer brands like Ritu Kumar, Rohit Gandhi & Rahul Khanna, JJ Valaya, Wendell Rodricks, Mandira Bedi
to name a few will be offered in all sizes and styles at the click of a button.
And if the mouth-watering deals were not enough to get shoppers' eyes popping, the 'End of Reason Sale' will also engage them with entertaining contests on the brand's social platforms and win exciting prizes. A series of quirky TV commercials have also been unveiled across leading channels to bring out the essence of the biggest online fashion sale.
Here's a glimpse of Myntra's End of Reason Sale TV commercials.
Speaking about the 'End of Reason Sale',
Prasad Kompalli, Chief Revenue Officer & Head of Sales & Marketing, Myntra,
said "Through EORS we will break away from the traditional End of Season Sale format which usually last for 6-7 weeks and crunch it into two days where shoppers can avail the best of fashion from the widest catalogue at amazing offers. With EORS, we will create India's Biggest Fashion Sale ever."
He further added, "The crunched sale period will also allow us to be the first fashion retailer to launch Spring Summer 2015 collection in January itself, and provide shoppers early access to fresh fashion."
Myntra's EORS has got leading fashion brands like Puma excited as well.
Gear up with the latest Myntra
App
(
Andriod
,
IOS
,
Windows
) on your smartphone and get ready to plunge into the fashion spectacle that will take place on January 3rd and 4th, 2015!
About Myntra.com:
Myntra.com is among the leading e-commerce platforms in India for fashion and lifestyle products. Myntra has partnered with over 1000 leading fashion and lifestyle brands in the country such as Nike, Adidas, Puma, Levis, Arrow, CAT, Timberland, FabIndia, Biba and many more to offer a wide range in latest branded fashion and lifestyle wear. The platform receives over 50 million visits every month and services over 9,000 pin codes across the country. With the largest in-season product catalogue, 100% authentic products, Cash On Delivery and 30-day Exchange/Return policy, Myntra.com is today the preferred shopping destination in India.